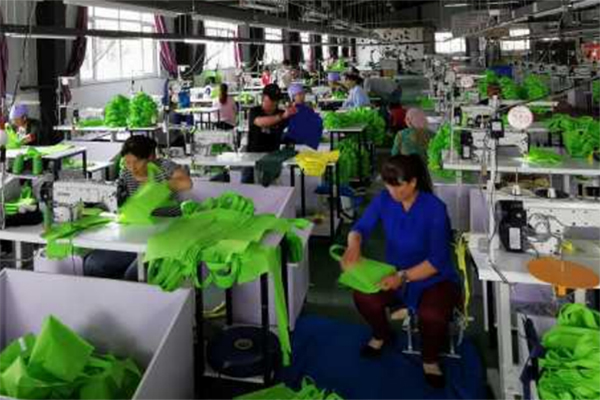 A busy poverty-relief workshop
Through the operation of "factory-style" poverty alleviation workshop, the poor people who cannot find jobs outside the city because they have to take care of the elderly and children can find jobs near their homes, so as to realize the situation of "taking good care of both family and job, one labor raise one family". Up to now, the first phase of the poverty alleviation workshop has absorbed more than 80 people in and around the village, including 56 registered card households. It has produced more than 1 million environmental friendly bags of various kinds. The highest monthly salary of the staff is more than 4,100 RMB, and the average salary reaches more than 2,000 RMB, benefiting more than 300 poor households.
The reporter understands in an interview that XIAMEN FEI FEI BAG MANUFACTURING CO.LTD is an environmental friendly bag manufacturer, which was founded in 2007 and headquartered in Xiamen. The company has become reliable bag supplier of CHANEL, COACH,TIFFANY etc. luxury brands,as well as Walmart, Carrefour, Tesco etc. international supermarkets. Its annual output exceeds 60 million bags, with stable market orders and increasing volume year by year.
In 2019, The company's general manager Mr. Lai Guangzhou was invited to Ningxia for an investigation. He visited Jingyuan County and found that there were no village enterprises in the area, and the main industry was cattle and sheep raising, 
which was more suitable for male workers. His enterprise is very suitable forleft-behind women employment, so he sprouted the idea of building poverty alleviation workshops.
"The cooperation between Fujian and Ningxia has a long history. As a businessmen in Fujian, it is a great honor to participate in the cooperation between Fujian and Ningxia. We have the responsibility to continue the story." When he came to investing in a factory in Ningxia, Lai guangzhou cannot help but be moved. "Some workers have never had a steady income, now we give them a pay card and steady income every month, and they are very happy. As the head of this business, I also feel great sense of accomplishment."
The reporter also learned that in order to solve the trouble back at home, such as special care for the elderly and picking up the kids from school, the governor in Jingyuan County not only set up the workshop in the central and most convenient area of the village, but also combined the village committees, convenience service centers and other communities to set up village health center beside the poverty alleviation workshop,to solve temporary emergencies such as accidental injuries, illnesses and other last-minute problems during working hours. They also set up "old dining tables" to include the parents of poor people who work in workshops and other elderly people, to solve the problem of people having to go home at noon to cook. The "four O 'clock School" was set up to solve the problem of "the masses going to work and their children being left unattended after school", so as to reassure the poor and gradually form professional workers. (Yang Juanwen, Ningxia Daily)
---
Post time: Aug-12-2020